Compared to wooden toys, plastic toys are light, cheap, and not easy to break. With the development of plastic manufacturing technology, there are more and more types of plastic toys for your choice. However, it also brings some concerns about the chemicals in plastic toys. How to choose safe and non-toxic plastic toys for our children is indeed a problem for most partners.
1. Are Plastic Toys Toxic?
There is a fact that we need to know first, not all plastic toys are toxic, only inferior plastic toys are toxic. What we need to do is to avoid buying these inferior plastic toys, not refused all the plastic toys, because it will make our kids lose a lot of fun.
Plastic products have been used in almost all the fields of our diary life, such as building and construction, food and beverage, medical and pharmaceuticals, automotive, etc. If the plastic toys are toxic, it means that all plastic products should be toxic, and plastic products should be banned. But it doesn't happen, on the contrary, it has become more and more popular. So, it is ridiculous to say that plastic toys are toxic.
2. Why Inferior Plastic Toys are Toxic?
Inferior plastic toys are mostly made of recycled plastics, these plastics often mixed with other materials, which are hard, dense, and have many impurities. Plastic toys with these materials are often fragile, it is dangerous for children because small pieces can easily be swallowed by the child.
The more frightening thing is that recycled plastics contain a variety of toxic and harmful chemicals, such as heavy metals, phthalates. These chemicals can enter the body through skin contact, breathing or diet, and cause harm to human health, such as carcinogenic, reproductive toxicity, and mutagenic.
3. How to Choose Safe and Non-Toxic Plastic Toys
Although we couldn't know the exact composition of the plastic, we still have some methods that can help us to choose safe and non-toxic plastic toys.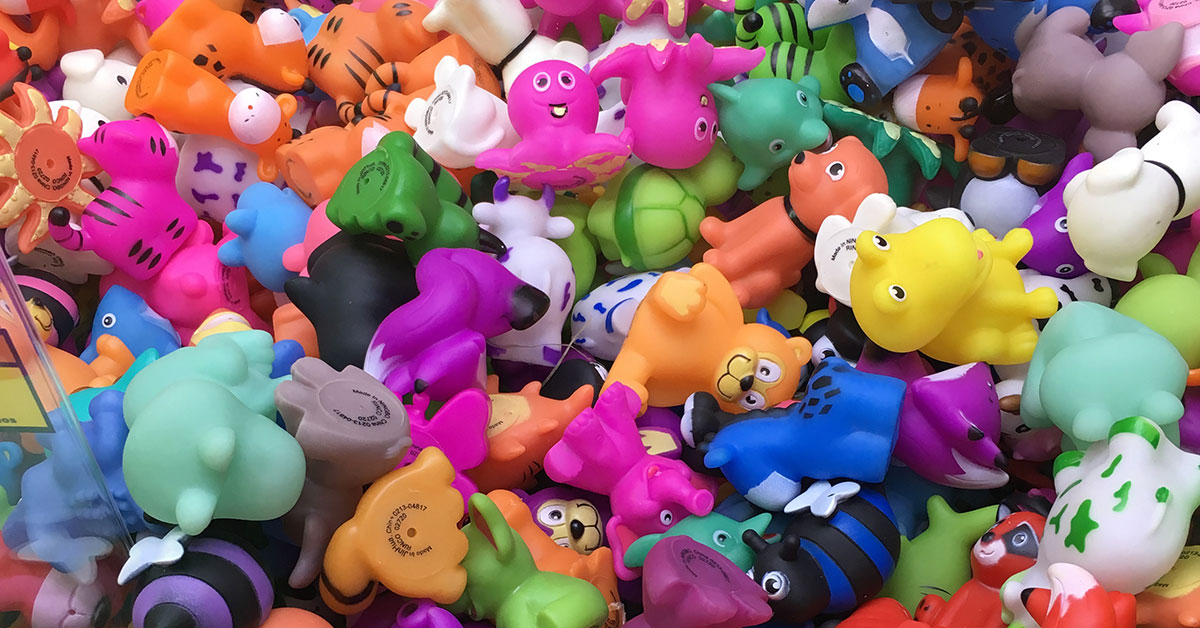 3.1. The Gloss and Color
High-quality plastic toys perform much better than inferior toys in gloss and color vividness because it is made of direct raw materials, such as PVC, PP, PE, the material itself is very shiny.
On the other side, many low-quality plastic toys are usually made of recycled plastic, and the color becomes worse after reprocessing. Color may not mean safe, but plastic toys with poor color must have potential safety hazards.
3.2 Product Thickness
Plastic toys or their parts are injection-molded at one time, the corners or arcs of the plastic wall are thicker than other places, which increases the damage tolerance of the toy and not easy to break. So, if your plastic toys are easy to break, they may an inferior plastic toy.
3.3 Products Inspection Standards
Every country has its own inspection standards for plastic toys. Common certifications include Reach, ASTM, 15P, EN71, SVHC, 3C. These inspections are the most basic safety certification, if the package of plastic toys has not the relevant certification, it means the products are counterfeit.
Besides, you also need to check the manufacturer, place of origin, main material composition, warning slogans, product qualification certificates, and other labels.
3.4 Smell the plastic toys
It is very necessary to smell it when choosing plastic toys. The German Consumer Protection Center pointed out that if some children's toys have a pungent smell, they should contain harmful substances, such as phthalate plasticizers.
Before using it, you'd better wash and dry the toys first, it can help to evaporate the smell of the plastic, and reduce the peeling paint and its heavy metal. If the plastic toy is marked with high-temperature resistance, you can also boil it.
3.5 Try it in Advance
For safety reasons, it recommends to try them carefully when buying plastic toys. Here are some common potential safety problems:
Shake the toy to see if the various parts are firm and whether there are small parts;
Pull the toys with ropes to see if the length is appropriate;
When choosing a sounding toy, try to see if its sound is too loud.
Touch the edges and corners of the toy, try to see if there are sharp objects which may scratch the baby.
4. Conclusion
It's hard to avoid to play plastic toys for your kids because many public places are using plastic toys too, such as slides in your community, plastic toys in kindergarten, PVC play ball in the amusement parks. but if you still worry about using a plastic toy, you can choose wooden toys for your kids, this is also the first choice for many partners.